I've been relaxing and taking some time off this Spring, but that doesn't mean I don't still DREAM about BEADS! While I'm spending more time "dreaming" than "doing" these days, I thought I might share some of the beads and jewelry I just find the "dreamiest" as I relax! Today, I'm featuring some of my favorite Spring beads from Natalie Pappas of NKP Designs.
In case you haven't had time for bead shopping lately, here are a few suggestions from me!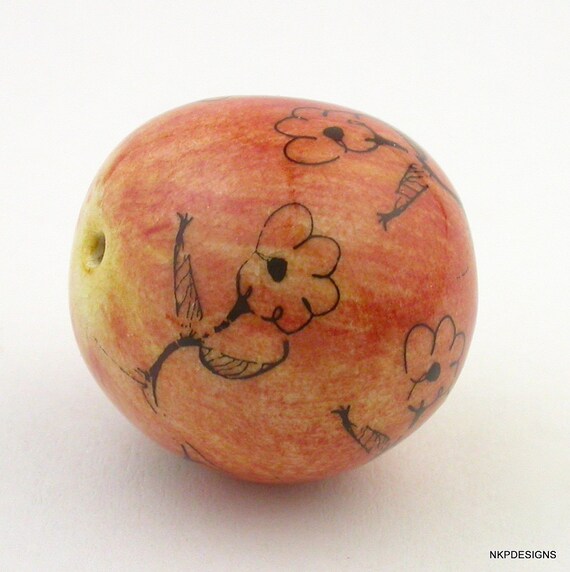 This one reminds me of a perfect apple, made all the more cheerful with Natalie's "dancing flowers" included! What a perfect focal bead this would make for a whimsical necklace! (From NKPDesigns on Etsy.)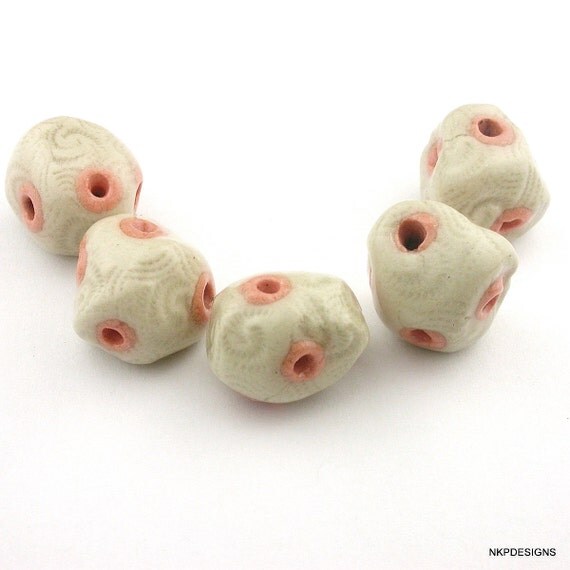 These remind me of the pottery whistles Natalie creates! (I encourage you to take a look at those too! They also make creative jewelry as well as being functional whistles!) These beads are just as delightful but without the sound. Love the creamy white and soft peachy accent holes! What a lovely summery necklace they would make. Gorgeous with any type of beads, but I keep picturing pearls!
(From NKPDesigns on Etsy.)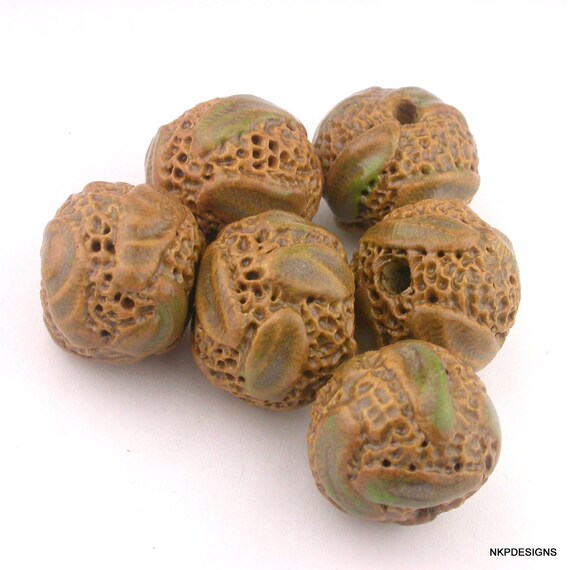 It's morel mushroom hunting season in the midwest and when I first saw these beads I was reminded of the rare delicacy! Just as morels are well-hidden by nature, leaves cover these bead treasures as well, Yum, morels, and very yummy beads! (
From NKPDesigns on Etsy.)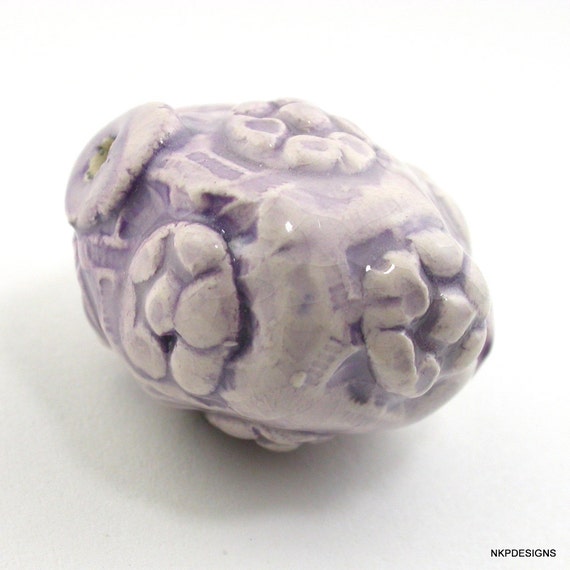 Who doesn't love African Violet's? I find this oblong focal bead irresistible! String it up with more purple or make a necklace with a garden full of colors!
(From NKPDesigns on Etsy.)
Look at the colors in these beautiful tab beads! Daisy images in lovely natural clay color with a dash of dark pink to make them just perfect for Spring. (These are from Natalie's store: nkpdesigns.com)
A set of beads all matching in design and color but in several sizes with imprints that look like leaves or flower petals. Perfect in minty green! I dream of a necklace from these. What do YOU dream of? (These are from Natalie's store: nkpdesigns.com)
If you ask me tomorrow, I would probably come up with an entirely new list; that's how much I enjoy Natalie's creations! So be sure to check out all the current options at Natalie's two stores:
Enjoy the bead peak! Hope to see you again soon! ~Sharyl
All bead photos NKPDesigns
Graphics from wpclipart.com