I haven't been involved in a challenge in a

really

long time,...
but the "
We're All Ears :: March Inspiration"
challenge on the
"Earrings Everyday" blog
caught my eye and I couldn't stop daydreaming about it! Here are just a few of the inspirational photographs included by Erin!
The magnificent colors and designs inspired 4 pairs of earrings, and I'll probably keep going!
I can't say I used just one of the photos, but if I did use one more than the others, it was probably this last one.
I'll show the first pair I designed today and add the others soon.
I hand cut the pieces from
genuine copper sheet metal,
then embossed them with a design folder
just made for this purpose!
You can tell that in addition to the patterns,
I was really drawn to the
bright orange, copper, yellow,
dark blue, and turquoise colors.
I started with this look,
then started applying more and more
as I often do with my components....
until they looked like the ones
I've added sterling silver earwires and jumprings,
accent beads in sterling silver, copper,
and dark blue encased glass.
I left one side as in photo 2 and the other side with more color layers.
The hooks can be switched in a second,
if anyone prefers one look to the other!
To see more entries, please visit
My thanks to Erin and friends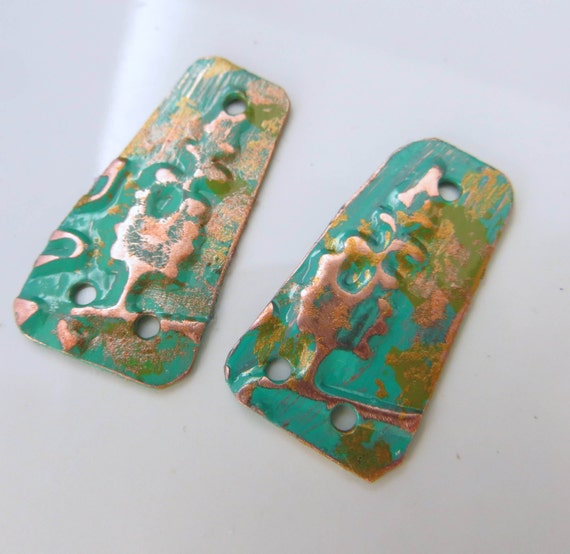 P.S. I can't resist giving a special "shout-out" to Alice, from "Alice Dreaming" blog, who used a pair of my Metapolies™ components in her design too! Visit her blog to see what she created! (And thank you, Alice!)