It didn't take me long to blow my blogging trend, did it? Well, my intentions were good, but I caught an ugly germ and that knocked me out good for a couple of weeks. And now that I'm just getting back to normal, I'm going to be away for a little while again.
When I last wrote, it was was early in January, and I was so happy that it was starting out so well! I had several really lucky things happen in a row that I wanted to share with you. It's a bit late now, but I'll share anyway!
First, I had some of my polymer clay beads included in two Etsy treasuries, both curated
by Chris P. from
DunroaminFarmDesign: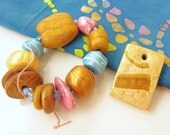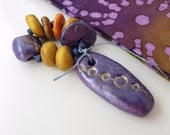 The next big thing that happened to me was that I entered the ABS Dec. challenge. Not only did the necklace sell to one of my "new good friends" overseas...
Lucky me! I had been admiring Sheila's work and was so pleased to go for a spending spree in her shop! I couldn't decide what to get though, and spent a couple of days trying to make up my mind! In the end, I added just a little bit more to Sheila's extremely generous gift and got these awesome beads!
I photographed them together with her lovely cards, but to fully appreciate these beads you must see each one close-up!
My sincere thanks to Sheila and to ABS for making the start of my 2015 such a good one!
While I'm still on the topic of Art Bead Scene, I'm so excited about the January challenge! I hope some of you will participate!
I had beads already made I hoped to put in my stores that I thought would be great for this challenge! But alas, my good luck ran a bit short. First the germ, and now I need to take some time away for a week or two.
Here is my plan for the stores:

Metapolies on ACM will be closed with expected reopening Jan. 30.

The other 2 stores are open for sales, but shipping may not occur until Jan. 30. If I can ship and/or reopen sooner, I will.
Best wishes to each of you for the coming weeks! I hope they are good ones for you!