The New Year of 2013 began right in at least one way for me. That was about the time I found

Serena Thomas'

Etsy store, "Serena's Beadery" (also known as "Taneres,") and placed my first order! I have to say, there is room in my heart for many a bead maker, but Serena is fast becoming one of my new favorites for lampwork.
I've since placed several more orders and can't seem to get enough of her beads in a rainbow of colors that never seems to end!
While Serena may be new to me, she's not new to making handmade beads. She has been making lampwork glass beads since 2001, one at a time, in her studio in south central Missouri.
There is a wonderful series of photographs on the evolution of Serena's Studio
This is one involving her collection of glass!
It's fun, please take a look!
You can also read more about Serena on her website!
It's always interesting to learn how good ideas get their start. Here's one for you! Some time back, Serena created this color gallery, and put it online. She says, " I started it a reference for myself and then decided it could serve as a wonderful resource for other lampworkers and also bead buyers trying to match up colors and make choices." Take a look and think of the many uses for this! Perhaps it could help in designing jewelry too!
I thought today I'd show you a couple of the items I've made using beads from Serena's Beadery. I think some of you will recognize these.
(

Serena's Beadery

)
Handmade gray triangular ceramic pendant by Karen Totten of Starry Road Studio. This pendant dangles from a section of chain connected to a scrolled sterling silver filled wire, containing two 14mm gray ceramic beads by Marti Conrad of Marti's Buttons-n-Beads; three smaller, 10mm dark green swirled lampwork beads handmade by Serena Thomas of Serena's Beadery)
(Necklace by Sharyl's Jewelry)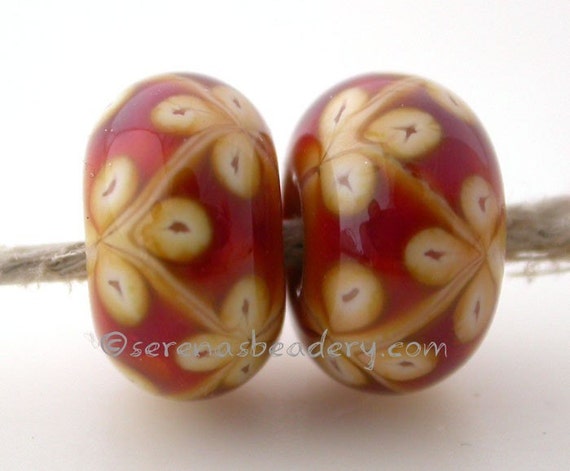 (Serena's Beadery)
One of our faithful blog followers won a gift certificate to my store
and selected these right after I listed them!
(Not to name names, but her first initial is "Shirley!" ha!)
(Earrings from Sharyl's Jewelry)
(I have many more of Serena's beads I'm "hoarding,"
but I'm not showing you those! No way! ) :-)
Instead,
here are some more of my favorites currently for sale in
Serena's Beadery:
Give me time,
I'll get them all! ;-)
As I often like to do,
I'm offering a little giveaway:
1) I'd like you to go to Serena's Beadery,
find something special you like,
and come back and tell us what it is.
2) Please paste in the URL to make it easy
for us to look it up too.
3) Also leave your name and...
4) ....a way for me to reach you.
(You can leave contact info in a separate message
if you would rather that not be public.)
That's it! I'll put your name in the drawing. Deadline is Thursday night at 11:59pm, Central time.
The drawing winner will receive:
3 of Serena's handmade squash orange mini spacer beads
;
2 of
my handmade copper components,
1 altered brass sunflower component, and
1 pair of handmade copper earwires
...to make a pair of earrings and a pendant, or to use on a charm bracelet, whatever, ...you decide!
Have fun everyone,
and thank you to Serena for being our special guest!
~Sharyl
P.S. You may want to drop by the Serena's Beadery Facebook Page too and give her a "like." Be sure to click "Get Notifications" and "Show in Newsfeed" too if you want to keep up with announcements.
Photo Credits:
Photographs from Serena's Beadery are copyrighted and used by permission of Serena Thomas for the purpose of this blog post only. Please do not copy without consulting with Serena.
Photographs from Sharyl's Jewelry were taken by Sharyl McMillian-Nelson and are copyrighted on ArtFire.